Hohner Products
Rainbow Tech Co., Ltd.
The distributor of Hohner in Thailand

Absolute encoders
Hohner offers a wide variety of absolute encoders, single turn and multi turn, serial, parallel or analogue outputs, together with a wide range of output codes. It also provides the possibility of programmable encoders that allow the user to program the encoder's most important parameters.
All these enable us to offer our customers solutions to assign a specific and unique value to each shaft position.
Parallel
• Resolution up to 24 bits
• Solid (CS) and hollow shaft (HS)
• Protection class IP65 or IP67 according to DIN 40050
• Available any positions number per turn
• Direction, code, enable, store and reset selection
• Output codes: Binary, Gray, Gray excess or BCD
• Radial or axial connection, cable or connector output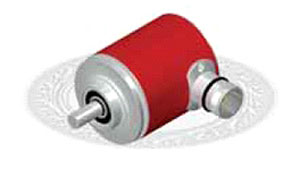 ---
Analog
The analog interface has two outputs: one provides the absolute position measurement as a voltage (0/10v), and the other as a current (0/20mA or 4/20mA). Both outputs come from a single turn absolute encoder with a 12bit resolution, with the 0 absolute position (0 degrees) having a value of 0v at the V+ output and 4 or 0 mA at the I+ output.
When the absolute position is 4095 (359 degrees) the V+ output will be 10v and the I+ output will be 20mA.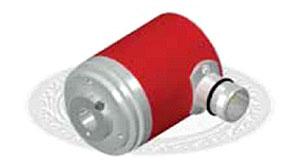 ---
SSI
The "Synchronous Serial Interface" (SSI) is an industrial output standard that only requires four lines for data transmission. This transmission system for absolute encoders provides several advantages with respect to traditional parallel transmission and asynchronous serial methods:
• Reduced component count
• Simple code modification
• Data transmission between the encoder and the receiver are controlled by the receivers clock signal.
• High transmission speeds in function of distance and the data block to be transmitted.

---
Fieldbus
DeviceNet and Profibus DP are digital communications network that connect and are useful as a communication network between industrial controllers and Input/Output devices. Each device is a node in the network and should be identified unmistakably.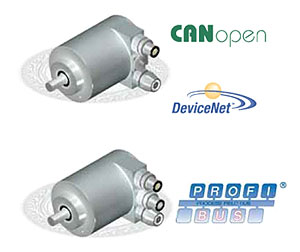 ---
SmarSens
SmarSens is a range of Hohner encoders that give a single encoder the possibility of absolute and incremental signals. Its compact and robust design with numerous communication interfaces available make SmarSens a product that adapts to the real needs of the client. The implementation through an OptoASIC provides a high degree of optoelectronic integration.
The range of SmarSens encoders is applicable to a great variety of applications such as wind turbines, elevators, etc.